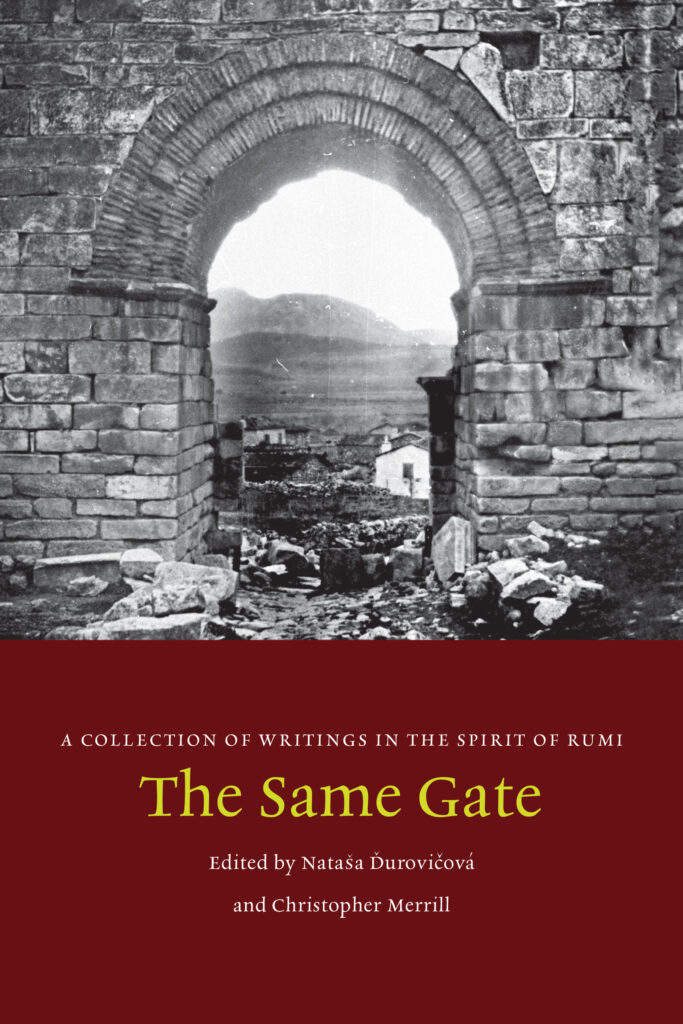 The Same Gate: A Collection of Writings in the Spirit of Rumi
Edited by Nataša Durovicová and Christopher Merrill
"In May 2013, poets, scholars, and writers from Afghanistan, America, Iran, Pakistan, Syria, and Turkey gathered in Konya, Turkey, in the spirit of Rumi, who had settled there in the thirteenth century. Their discussions of the questions raised — What is the poet's relationship to religion, to women, to Shams? Can his music survive translation? How shall we interpret his use of the word love? — were always fraught, which is to say: fascinating."
From Christopher Merrill's Introduction
This collection of essays and poems inspired by the Persian poet and mystic Rumi (1207-1273 C.E.), is divided into three parts: the first contains a half-dozen critical pieces about the Sufi master's ideas, works, standing, and poetic legacy, written from a variety of literary and national perspectives. The second gathers poetic and personal responses to Rumi's ghazals. The third features three women — two poets and one essayist — devoted Rumi readers all, grappling with the powerful male aura surrounding this ancient figure.
ISBN: 9780998740034 / 2018 / 173 pages / paperback / $15.00
Cover photo by Gertrude Bell (1914), courtesy of Gertrude Bell Archive, New Castle University (UK)
The collection is complemented by a documentary and a short series of filmed interviews by Nigol Bezjian
Copyright © 2021 Autumn Hill Books – All Rights Reserved.