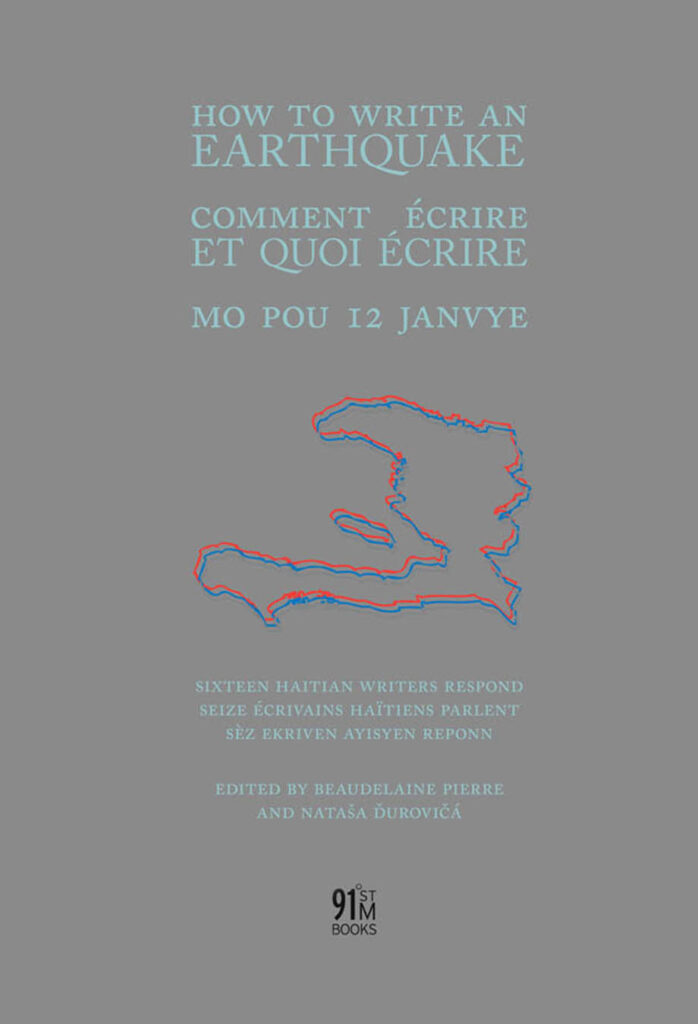 How to Write an Earthquake / Comment écrire et quoi écrire / Mou pou 12 Janvye
How to Write an Earthquake was conceived as an immediate reply to the catastrophe Haiti suffered on January 12 2010. Haitian writers everywhere were invited to send in texts arising in its aftershocks. They responded in the three languages spoken commonly on the island—French, Creole, English. Edited by Beaudelaine Pierre and Nataša Ďurovičová, this trilingual collection captures with seismic precision the emotions, sights and thoughts of these writers. With contributions by:
Raoul Bourdeau Altidor, Bonel Auguste, Chenald Augustin, Dominique Batraville, Edwidge Danticat, Valerie Deus, Gaspard Dorelien, François Fenelon, Yanick Lahens, Joël Lorquel, Lucie M. C. Paul-Austin, Beaudelaine Pierre, Claude Bernard Sérant, Patrick Sylvain, Lyonel Trouillot, Joujou Turenne, and Joëlle Vitiello.
"Through its creative melding of literary weight and public trauma, [the volume] stands as an implicit alternative to the mainstream conceptions of relevant "public" literary non-fiction writing in the United States…. In writing to witness, narrative and lyric craft is employed to interpret the present and the past as well as to imagine possible futures."
-Sonya Huber, review in Writing & Pedagogy, 4/2
"This crucial anthology ..craft[s] a new layer of Haitian trauma literature."
-Anny Dominique Curtius, author of Symbioses d'une mémoire: Manifestations religieuses et littératures de la Caraïbe
Cover Design by Ian Stewart / Designed and typeset by Erica Mena
91st Meridian Books / ISBN 9780984303670 / 2012 / 127 pages / paperback